- New Business
- Macro Rotation
- Sector Rotation
- Sub Sector Rotation
- Updated
Big
Picture
Idea's
____________________________________________________________________
New Business
Happy to hear from everyone who has been enjoying the app and thank you to the 97 members who left reviews! If you are still having issues accessing all the features, please listen, use your email that you get the newsletters from and remember your password is your first initial and last name, no caps in the email or password. If you follow that step you will have full access, if you read this and still cannot get access please shoot me a PM on GroupMe of your email and password that you are entering and we will get it fixed for you.

We have made some improvements to the group such as the new chart posting feature with the $ in front of the ticker, we are also cooking up some new features to the app as well. If you have any advice on how we can make the app better for your needs please let me know!
If you would like to take a few seconds of your free time to leave us a review that would be nice :)

____________________________________________________________________
Broad Market Outlook
So lets recap the 2 months real quick, SPY +20%, NASDAQ +22%, Mid Caps +25%, Small Caps +28%, Tech +26%, Energy +25%, Industrials +28%, Materials +20%, Financials +20%, REIT's + 21%. Christmas is over folks, its currently the day before Friday the 13th, or April Fool's Day, or some shitty holiday if one existed.
If you are looking to buy the first pull back in any of these major sectors or in individual names that recently just ran up 20,30,40, 50% so far this year. When you pass the next Home Depot, pull in and grab a shovel and some lime. The market on average over the last 100 years has returned 7%, we have had 3 years worth of returns in 3 months in a straight line. The sun is shinning and most have their feet in the sand, having a blast however there is a storm brewing. Could we start to flag out here and make a run for new highs? Given that we were a mere 3% away from highs last week, it is a possibility however the meat of the move is behind us.
It's now time to punish the chasers and the impatient, we are in a range bound market near the upper most end of the range. Broadly in a range bound market we sell resistance and buy up off support (broadly). This is defense time. For every 100 charts we scan there is about 1 worth taking, you need to be ultra selective. Just like any other trading day or week, if you are scanning names daily, you will find spots to put money to work, even during the Financial Crisis when the broad market dropped 50%, there were plenty of names that were up 20,30,50% in a few weeks. I am not saying that a crisis is around the corner. I am saying this because when it gets tough some tend to complain that there are no set ups, yet when asked how many names have they scanned the answer is usually a few.
Lastly with the new update to the group where you can post daily charts of any name by putting $ in front of the ticker, please post your complete game plan along with the ticker. For example $FIS $110.05 Buy Stop, $102.89 Stop, $130+ Target.
______________________________
______________________________
________
Cheat Sheet 
Nasdaq starting to roll over

S&P 500 starting to roll over
Dow Jones starting to roll over

Mid Caps starting to roll over

Small Caps starting to roll over

China basing

Japan avoiding

Europe still in downtrend

Emerging Markets basing

India poking out of flag

Russia flagging

10 Year near lows

Bond strong (not a good sign for us)

USD strong (not a good sign for us)

Oil retesting prior resistance

Nasdaq
Hard v bottom off lows right into the prior pivot high, most people want us to just inch back to highs and continue higher forever however that is a dream, not a reality, we have a fun Christmas for the last 3 months, its not time to start chopping around, the market has been expecting the trade deal to be in the bag, when or if it is not, be prepared for the waters to get rocky.
SPY
The market continues to surprise us, no one knew that we would V bottom off lows and run right into 280, now that most think we should continue this rally, should make us think otherwise.
 Dow Jones
If the DOW can start to flag in this 248 to 262 area we could see a set up to take us to new highs, if we push down through 248, except the lower highs and lower lows as the market rolls back over in the lower area of the range.
MDY Mid Cap Stocks
Mid Caps break the level just long enough for people to chase long expecting a run back to highs, only to roll back over, we see this all day long, 334 is the next pivot we want to see hold, on the way down we tend to get those relief bounces where we think the bottom is in, just as easy as the market runs up, it tends to fall even faster.
IWM Small Caps
Small caps have been leading the overall markets and we saw it stall under 160, 148 and 144 are the next area's of support we want to keep an eye on.
GXC China
Wide 20 point base forming between 82 and 102, we should expect it to take some time before clearing it, if and when it does, we should expect a move back to the prior highs.
EWJ Japan
Still a super wide range with no real definable set ups, still avoiding.
VGK Europe ETF 
That candle isn't real, of that flush down to 50, however it is still in this overall downtrend, we took advantage and looked some in as it ran into resistance.
VWO Emerging Markets
 Europe chart wise is a bit behind the Emerging Markets, you can see how the EM's broke the downtrend and are now starting to base, these bases take time and the longer the better.

INDA India 
Wild over in India, thing gaps like crazy, you might be starting to notice how you are not paid to buy breakouts in the major markets, you really need to buy the pain to get paid.
RSX Russia
Still flagging under that 21.50 level.
10 Year Treasury Note Yielding 2.63%
If you are looking to get a mortgage remember that your interest rate is based off the 10 year among a few other factor, when the 10 year is 75 basis points off highs, you can lock in a great rate.

10 year Treasury Note  2.63% (higher = good)
2 year Treasury Note 2.46%
BND Bond Market
 Bonds still battling with 80 however the more it hits the level the more likely it will take it out.

USD
Dollar has been strong, not a great sign for us equity guys (and gals).
OIL 
Oil coming back to retest the prior resistance.
____________________________________________________________________
Refer a friend to Trading Experts and receive a free month 
Or 
If you would like to do us a  
Small Favor
by leaving us a review, there will be a 
surprise
 at your doorstep before the next

Big

 

Picture

!
____________________________________________________________________
Sector Rotation
Key points
- For any of the major markets or sectors, we are parking these positions in a taxable account looking to hold for a year plus (Long Term Capital gains)
- Meaning we are willing to hold positions against us as overall sectors and markets are much less volatile than individual names.
- We are buying or adding (dollar cost averaging) when there are actionable set ups. 
- We are selling for either profit or getting out for breakeven if better opportunities  arise elsewhere in other sectors.
- If you plan to add this strategy to your portfolio please discuss it will me so we can make sure you are not parking these ETF's in retirement accounts locking up tax deferred capital that can be put to better use in individual stocks.
VGT up 26% off lows - sell, sit on hands, patience

VDE up 25% off lows - sell, sit on hands, patience

VIS up 28% off lows - sell, sit on hands, patience

VOX still inside macro downtrend

VAW up 20%+ off lows - sell, sit on hands, patience

VCR up 20%+ off lows - sell, sit on hands, patience

VFH up 20%+ off lows - sell, sit on hands, patience

VNQ up 21% off lows, near highs (not a good sign)

VDC up 13% off lows

VHT showing us what could be in store

VPU new highs (not a good sign)

____________________________________________________________________
Sensitive -  sectors that have moderate correlations to overall market conditions. 
VGT Tech
26% run up off lows, if you want to buy up here, I would be looking to do the opposite.
VDE Energy
25% run up off lows this year, still has a lot of real estate to cover above $90, we blow through 82 and I will have no problem looking to buy some stock back on the way up.
VIS Industrial
28% run up off lows, this is bio tech swing trading numbers in an entire sector, if your trying to buy the first dip, head to home depot and buy a shovel and some lime.
VOX Telecom
 Telecom still in this macro downtrend, one day it will see the light of day.

____________________________________________________________________
Cyclical - sectors that are more sensitive overall market conditions.
VAW Materials
Nice 22% run up off lows, I was fortune enough to be able to get off a decent amount of stock for some gains as it ran into resistance.
VCR Consumer Discretionary
21% run up, I sold a bit pre mature however that's trading.
VFH Financials
Solid flag in this 64 to 68 range, however again 23% run up in 3 months, late to the party trying to buy the first dip.
VNQ REIT
This VNQ we traded very well, we bought on the way up off dead lows, got a little quick on the trigger selling than took the rest off near highs. Same story 21%+ move in 3 months, if you are expecting another 21% in the next 3, you are dreaming.
____________________________________________________________________
Defensive- sectors that tend to outperforming during sub par market conditions.
VDC Consumer Staples
Staples lagging a bit only a 14% bounce off lows, however it was basically a straight run up, there are no area's of real support to hold this chart up.
VHT Healthcare
Healthcare is giving us a peek behind the curtain, sharp 17% run up and with no levels of support it reverses just as fast.
VPU Utilities
Utilities breaking out to new highs, if that isn't sounding the alarm I am not sure what can.
____________________________________________________________________
Sub Sector Rotation
Cheat Sheet
IBB be prepared for the 106 flush

IBB Bio Tech
IBB flagged in a $5 range, and text book broke out for $5, still holding above 106 however if it gets back down there again, expect a flush.
____________________________________________________________________
The New

Big

Picture

Set Up
The

Big

Picture

FISV $130+ 12 Month Target
Fidelity has been flagging at this $110 for just under a year now, we have seen this blue sky bull flag a hundred times, when it wants to break $110 we want to be in.
Big

Picture

Entry $110.05
____________________________________________________________________
The Big Picture's Updated
The

Big

Picture

UNH $330+ 12 Month Target
UNH has been showing us that 273 has been resistance, the seller did let go in November and December however whoever he is, he is back and holding that level down. For now its still quite a large range so we will have to be patient with the DCA's.
We wanted to buy $273 two weeks ago and after the pull back into support, picked some up on the way up vs $232, for now my next DCA will only be higher than my first buy, I picked some up on the way up through $240, my next add will be above $244, if I am wrong have no problem hitting out down through the 232 recent low.
Big

Picture

Entry $273.05
Feeler $244.05
The

Big

Picture

ASND $100+ 12 Month Target
ASND has been flagging at highs in quite the range for the last year plus, as of late we can see 3rd times a charm forming at 76, with the next attempt being 4th times. More importantly is that we are seeing a recent pivot low that has helped tighten up the risk in this trade vs 64. Now there is still 12 worth of risk however if we can get it the real room this should easily be a name that

we could take home 30, 40, 50 points in it in time.
What's 60 points between friends.
The

Big

Picture

DXCM $200+ 12 Month Target
We tried to buy $150.05 this week and it was withing pennies of ticking us in, lucky for us and our mental capital, that 3rd times a charm $153 is looking mighty nice for a blue sky breakout.
Still in a casual 20 point range, for now holding and will add above $150 and $156.
Big

Picture

Entry $156.05
Feeler $150.05
The

Big

Picture

CDNS $54+ 12 Month Target
So we are shifting gears away from the large cap names and taking a look at CDNS that has been setting up through this 47 level since July. Now this is by no means a cake walk 47 buy as it has ran basically in a straight line up from 40. Will start light and if it wants to blast 47 and never look back even better, if it wants to start setting out we should have not problem adding in time.
Held the earnings gap up, if you are still in bump that stop up and let CDNS continue to work higher.
Big

Picture

Target of $54 exceeded

____________________________________________________________________
Trading Experts NYC Meet Up
Awesome to see such a
big
turn out last night with over 20 members showing up throughout the night bringing along wife's, girlfriends and friends. Great catching up with everyone and we can't wait to see you guys at the East Coast snowboarding trip in January!
Trading Experts Atlanta Racing Trip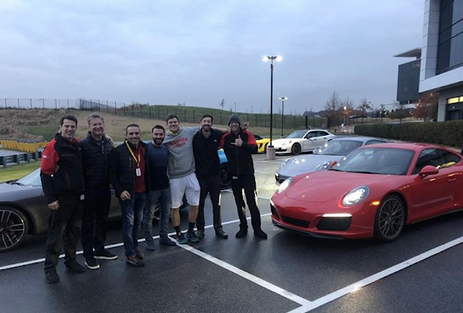 Was great to catch up with Rob and Mr Moon down in ATL this past weekend. Racing these Porsche's on a private track helped reinforced how much of dumb money I have been all these years whipping my Aston around.
Trading Experts Vermont Snowboarding Trip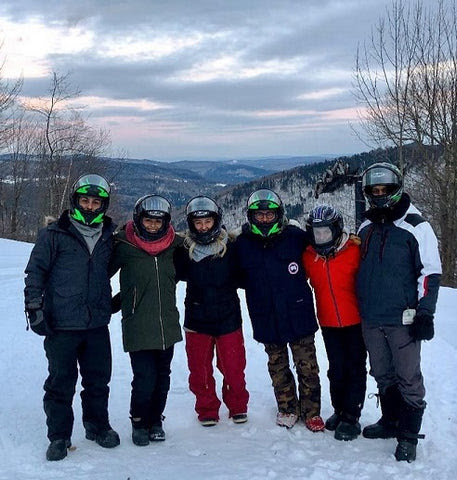 What a great trip with the TE fam spending the last few days in Vermont snowboarding and snowmobiling.
Big
shout out to everyone who came and we look forward to riding with more Alpha members on future trips. Ask Colin Rafferty about the ghost that haunted the house to hear a funny story.
Trading Experts Miami/Bimini Bahamas
The game plan will look something like this, we will fly into Miami on Thursday spend the night in south beach, and from there on Friday morning we will hope in Capt. Joe boat and leave Miami and charter his boat over to Bimini Bahamas! 
Once we get there we will have an ocean front house available for the weekend where we can travel around and check out the sites as well as swimming with the sharks if you have the balls.
This trip will be a tight crew of Capt Joe, myself and only 6 Alpha members who will be coming to Bimini.
If you are interesting in coming on this once in a life time adventure let me know as it will be first come first serve on the 6 Alpha's that will be attending!
Dates will be a weekend in April 25th to the 28th, if you are interested shoot me a PM on Group Me.
____________________________________________________________________