- New Business
- Macro Rotation
- Sector Rotation
- Sub Sector Rotation
- Updated
Big
Picture
Idea's
____________________________________________________________________
New Business
The last no we got from Apple was due to the fact that our account sign up required an email instead of being optional, so it seems were getting down to some of the last dots on the i's of Apple's approval process. Lot of lessons learn and we should have this app out to you guys very soon!
The private charter out of Miami in April to Bahamas will most likely be the last weekend of April, we will start the trip on Thursday in Miami, and than head for Bahamas on Friday morning out of the port of Miami on Capt Joe's boat, its only a 40 mile ride to Bahamas so it wont take too long on the open waters. Joe and myself will be finishing up the rest of the logistical in a week or so and will have everything in stone very soon. So far we will have room on the boat for 6 Alpha members and I have already spoken with Heaven, Hunter, Rob and Kriss who had shown interest in joining. There still is room for 2 more members on this one in a life time trip! If you would like to know more about the trip shoot me a PM on Group Me, hope to see you in April!

____________________________________________________________________
Broad Market Outlook
This market continues to surprise week after week, end of 2018 the market was down 20% off highs and the start of 2019 we are up 20% off lows. If the market was to beast along and retest the prior highs there is about 5% left of juice in the tank before that happens. At this rate if the SPY takes out 280 that just might happen however even if we take out new highs, the boogie man hasn't left the building, a year is a long time and just like the beginning of 2018 where the market handed us gold in the beginning, it waterboarded us with coal for longer than most could handle. 
The main lesson I learned during this recovery was what most traders allure for, getting great/cheap stock, the problem is that we often give it away too soon due to loss aversion. Every BP sell I had in the last 5 weeks had I done nothing and sat on my hands would have been a far more profitable outcome then what I had done. A lesson that most can relate to. With that being said, I have plenty of cash to play with and plenty of patience to not chase the board markets up 20% off lows with no real pivots in sight or care about what the SPY is doing on a 15 minute chart.
We have only see the upside of the range bound market in 2019, be prepared for when the tide turns because just like every stock we trade, just when it looks like it can only go higher is right before the rug pulls. If you were trapped in positions into the end of the year and now can put in break even stops, do so, if you have stocks up 10,20,30,40,50, some even up 70% (Gina shouts to you) and you do not have tight stops in because your up huge percentage wise, this is the time to be greedy not lax.
This market as you have been seeing from the individual stocks we trade, its a stock pickers market, there are opportunities out there if you actually spend the time to look for real set ups line ASND, a chart with a clear line of resistance that has been setting up for a year plus with 3 major attempt at the level. If all your doing is looking for two inside days and thinking its a set up, better get that uber app ready for the next correction because those set ups are not going to cut it.
                                                                                              From Ben G
______________________________
______________________________
________
Cheat Sheet 
Nasdaq 7200 resistance, 6800 line in the sand

S&P 500 280 4th time, 276,272,268 line in the sand
Dow Jones 260 3rd time, 248 line in the sand

Mid Caps 350 4th time, 335 line in the sand

Small Caps 158 level, 142 line in the sand

China basing

Japan avoiding

Europe avoiding

Emerging Markets basing

India flagging

Russia inside range

10 Year 2.67%

Bond tagging 80 level

USD flagging

Oil breaking out of base, target 78

Nasdaq
The market has increase by 20% this year so far and nothing has really changed other than dumb money puking at lows and chasing at highs. For now as long as we hold above 6800 anything is possible.
SPY
The market continues to surprise us and this was a good lesson for myself in this snap back, we often want to get the best price in the world however in this case, I gave away a lot of amazing stock (ETFs) way to early. Lesson learned, now does that mean I am going to buy 4th time 280? Hell no, just because I sold stock too soon does not mean I am going to blindly chase 50 points higher, I will leave that to the RH crowd. 276,272,268 lines in the sand.
 Dow Jones
If you were trapped in any names during the recent bear market, the market is giving you a chance to safe face, if you are now breakeven in something that you were down 10,20,30% in, you better up those stops to break even because if or when the pain comes, you will be much happier with the cash than the stock. Third times at 260, 248 is the line in the sand.
MDY Mid Cap Stocks
 Up a casual 20% off lows, 360 is 4th times a charm at this level with 335 is the line in the sand. In a range bound market we need to be buying up off support and looking to sell into resistance, after this monster sell off, clearly I was selling too soon, lesson learned.
IWM Small Caps
Same story as the Mid Caps, bought up off the dead low and sold too early on the way up, who would have expected a 20% bounce off lows in a month? We sure as shit didn't, as mentioned above we are not looking to buy the break of resistance broadly in a range bound market as the meat of the move has already past. 158 is a soft level, the line in the sand is 142.
GXC China
The base continues to form between 82 and 98, wide range, needs some time.
EWJ Japan
Still avoiding Japan.
VGK Europe ETF 
 Still avoiding Europe until the Brexit issue is resolved.

VWO Emerging Markets
Like China, the Emerging Markets are starting to base after breaking the down trend, major markets need time to base so there is no rush.

INDA India 
India still flagging.
RSX Russia
 Russia perfect example of the range bound market, ran right up into resistance and looked so easy to buy, only to roll over and in a few days reverse a 3rd of the up move.
10 Year Treasury Note Yielding 2.67%
 We started to get the first warning sign of an inverted yield curve (shorter term rates yielding more than longer term rates). Most people panic at this which is something to take note of. For now the 10 year is still yielding more than the 2 year so we are still good.
10 year Treasury Note  2.67% (higher = good)
2 year Treasury Note 2.51%
BND Bond Market
As we can see support turning into resistance for now. 

USD
 Still flagging.
OIL 
Oil finally breaking out of the base, we should start to see the oil names wake up a bit from the dead spiral most have been in.
____________________________________________________________________
Refer a friend to Trading Experts and receive a free month 
Or 
If you would like to do us a  
Small Favor
by leaving us a review, there will be a 
surprise
 at your doorstep before the next

Big

 

Picture

!
____________________________________________________________________
Sector Rotation
Key points
- For any of the major markets or sectors, we are parking these positions in a taxable account looking to hold for a year plus (Long Term Capital gains)
- Meaning we are willing to hold positions against us as overall sectors and markets are much less volatile than individual names.
- We are buying or adding (dollar cost averaging) when there are actionable set ups. 
- We are selling for either profit or getting out for breakeven if better opportunities  arise elsewhere in other sectors.
- If you plan to add this strategy to your portfolio please discuss it will me so we can make sure you are not parking these ETF's in retirement accounts locking up tax deferred capital that can be put to better use in individual stocks.
VGT 182 stop

VDE 82 stop

VIS 137 stop

VOX 80 stop

VAW 116 stop

VCR 170 4th time, 160 stop

VFH 68 4th time, 64 stop

VNQ new 52 week highs

VDC 137 stop

VHT workig its way to highs,168 stop

VPU flagging under prior highs, 123 stop

____________________________________________________________________
Sensitive -  sectors that have moderate correlations to overall market conditions. 
VGT Tech
If you are still in set a 182 stop and let this thing continue to grind.
VDE Energy
Sold most too early, for now a stop below 82 and let it work toward to the next pivot, with oil ripping should help this sector quite a bit.
VIS Industrial
Unstoppable, just keep upping those stops because there is no area of support to hold this crazy run up. 137 stop for now.
VOX Telecom
VOX still in the macro downtrend, if you have any stop sub 80 lets move that stop up.
____________________________________________________________________
Cyclical - sectors that are more sensitive overall market conditions.
VAW Materials
Materials have been lagging a bit in this rally however they are still giving us a defined out below 116. 
VCR Consumer Discretionary
VCR is working toward 4th times a charm at 170 while the out is vs 160. 

VFH Financials
Clean range with 4th time at 68 and the out below 64.
VNQ REIT
FED getting soft on rates and REITs are off to the races, just keep upping those stops.
____________________________________________________________________
Defensive- sectors that tend to outperforming during sub par market conditions.
VDC Consumer Staples
Going to need to see a rug pull after this price action the last few months, anywhere you look it seems to be Christmas morning on stock exchanges where you can sell what was worth 20% less a month ago for almost even today.
VHT Healthcare
Healthcare seems to have its high on retesting those prior highs soon, stop vs 168 for the rest.
VPU Utilities
Utilities flagging on its way back to retest highs behind REITs, not the best sign when the flight to safety sector is flagging under prior highs.
____________________________________________________________________
Sub Sector Rotation
Cheat Sheet
IBB closed at breakout level

IBB Bio Tech
We should see new highs in this sector this year however that does not mean blindly buy 112 when you wanted to sell 106.
____________________________________________________________________
The New

Big

Picture

Set Up
The

Big

Picture

ASND $100+ 12 Month Target
ASND has been flagging at highs in quite the range for the last year plus, as of late we can see 3rd times a charm forming at 76, with the next attempt being 4th times. More importantly is that we are seeing a recent pivot low that has helped tighten up the risk in this trade vs 64. Now there is still 12 worth of risk however if we can get it the real room this should easily be a name that we could take home 30, 40, 50 points in it in time.
____________________________________________________________________
The Big Picture's Updated
The

Big

Picture

DXCM $200+ 12 Month Target
We tried to buy $150.05 this week and it was withing pennies of ticking us in, lucky for us and our mental capital, that 3rd times a charm $153 is looking mighty nice for a blue sky breakout.
Our feeler and big picture entry triggered this week however not much love as we might be a bit too early. If you can get out breakeven take it, as we can just as easily buy back 152 in time.
Big

Picture

Entry $152.05
The

Big

Picture

CDNS $54+ 12 Month Target
So we are shifting gears away from the large cap names and taking a look at CDNS that has been setting up through this 47 level since July. Now this is by no means a cake walk 47 buy as it has ran basically in a straight line up from 40. Will start light and if it wants to blast 47 and never look back even better, if it wants to start setting out we should have not problem adding in time.
Doji at high failed us this time, if you are still in, congrats and happy to hear your still in, stop vs 51 and let that sucker for!
____________________________________________________________________
Trading Experts NYC Meet Up
Awesome to see such a
big
turn out last night with over 20 members showing up throughout the night bringing along wife's, girlfriends and friends. Great catching up with everyone and we can't wait to see you guys at the East Coast snowboarding trip in January!
Trading Experts Atlanta Racing Trip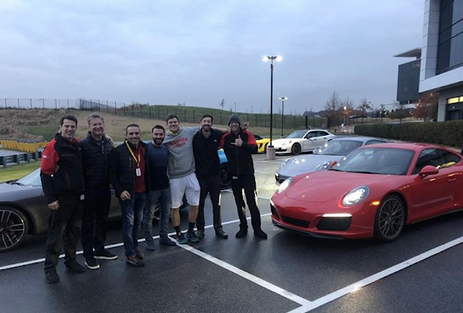 Was great to catch up with Rob and Mr Moon down in ATL this past weekend. Racing these Porsche's on a private track helped reinforced how much of dumb money I have been all these years whipping my Aston around.
Trading Experts Vermont Snowboarding Trip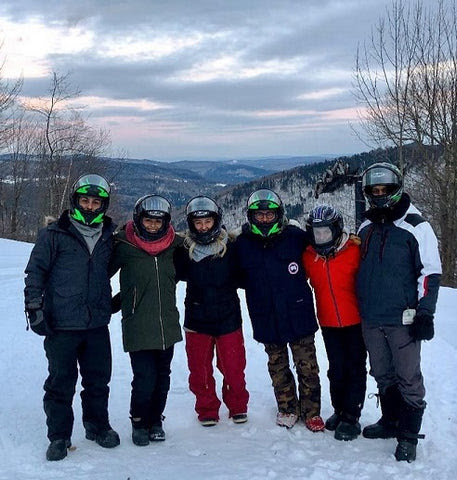 What a great trip with the TE fam spending the last few days in Vermont snowboarding and snowmobiling.
Big
shout out to everyone who came and we look forward to riding with more Alpha members on future trips. Ask Colin Rafferty about the ghost that haunted the house to hear a funny story.
Trading Experts Miami/Bimini Bahamas
After having a chat with Captain Joe we are making an audible on the TE trip, instead of heading back to Turk, we are playing a more exciting trip to Bimini. The game plan will look something like this, we will fly into Miami on Thursday spend the night in south beach, and from there on Friday morning we will hope in Capt. Joe boat and leave Miami and charter his boat over to Bimini Bahamas! 
Once we get there we will have an ocean front house available for the weekend where we can travel around and check out the sites as well as potentially swimming with the sharks if you have the balls.
This trip will be a tight crew of Capt Joe, myself and only 6 Alpha members who will be coming to Bimini.
____________________________________________________________________